Accessibility Shabbat – NYC, Feb 2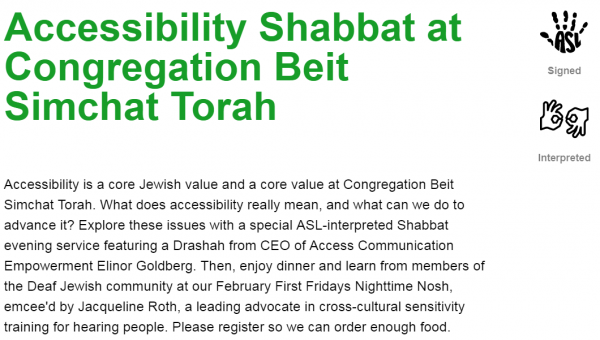 Accessibility is a core Jewish value and a core value at Congregation Beit Simchat Torah. What does accessibility really mean, and what can we do to advance it? Explore these issues with a special ASL-interpreted Shabbat evening service featuring a Drashah from CEO of Access Communication Empowerment Elinor Goldberg.
Then, enjoy dinner and learn from members of the Deaf Jewish community at our February First Fridays Nighttime Nosh, emcee'd by Jacqueline Roth, a leading advocate in cross-cultural sensitivity training for hearing people.
"Accessibility Shabbat"
Where:
Congregation Beit Simchat Torah
130 West 30th Street, New York, NY
When:
Feb 2
Time:
6:30 pm – 8:00 pm
Source: http://deafnyc.com/events/accessibility-shabbat-at-congregation-beit-simchat-torah/