JADE Offers Captioning Grants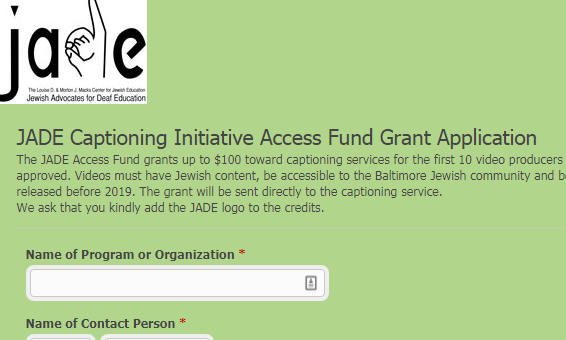 FEBRUARY 2, 2018
BY SUSAN C. INGRAM
Baltimore Jewish Times
Jewish Advocates for Deaf Education (JADE), a program of Center for Jewish Education, is launching an initiative to increase awareness of the need for video captioning of Jewish-content videos. CJE is offering $100 grants for the first 10 producers who agree to caption their Jewish-content videos for the first time, according to JADE coordinator Yael Zelinger. The videos must be available in Baltimore and be approved by CJE, which will offer an hour of captioning tech support to captioners.
JADE offers resources to help individuals or producers interested in captioning their video productions with connections to transcribers and recommendations of websites and software to help people learn the process. CJE's resident "captioning expert" Martha Goodman has captioned the first two episodes of "Soon By You," a Jewish YouTube video series.
"We plan to compile a list of videos with Jewish content that are captioned and post them on our soon-to- be-created webpage from cjebaltimore.org/jade," said Zelinger in an email.
So far, two Jewish-content video producers have applied for the CJE captioning grant, Institute for Jewish Continuity and Torah Legacy Productions.
For more information or to apply for grants visit cjebaltimore.org/jade.
Source: http://jewishtimes.com/74368/jade-offers-captioning-grants/news/